Top Halal Beverage Manufacturer Malaysia
Looking to start a business selling your own product? You might want to explore OEM food and beverages manufacturer Malaysia. Read this article to find out more about producing your own beverage brand.
Launching a product under your brand is a good start since beverages products are hot in the market. You might want to look for a manufacturer in Malaysia that understands what you want. There are several reasons to choose the right beverage manufacturer in Malaysia so you can start your own product without too much hassle.
OEM or Original Equipment Manufacturer is a party that will create and produce certain products which will be sold by people who want to have their own product but without much hassle.
For example, you are interested to sell drinks with your brand, you can just approach an OEM and do the needful. No need to set up your own factories or anything like that. There are various products that can be produced by OEM and it is all up to you to decide what you want to sell. You also should look for OEM with GMP (Good Manufacture Practice).
This is because, in Malaysia, KKM decided that for an OEM to be recognized as safe and qualified to produce products, they must have GMP and only produce products that are 100% organic. Another reason why OEM will make it easier for you to produce your own products is because most OEM in Malaysia have Halal certificates so you won't have issues with that aspect.
Type of Beverages
Since we are looking into producing beverages, here are some beverage types that you can choose for your own brand:
You can choose from a wide range of products such as coffee, coco, goat milk and more.
Various fruit-based drinks available for production.
Are The Ingredients Safe And KKM Approved?
As mentioned before, this is why you should look for an OEM company that has GMP so that it is guaranteed that it is safe and KKM approved. This is also to avoid any future issues that could arise and of course so that your consumers will not be harmed severely by consuming your products.
Besides, with the correct OEM, the R&D (Research and Development) of the product will be handled by the company to ensure that it is safe and of good quality.
Are The Ingredients Halal?
As also mentioned before, this is why it is vital to approach a company with halal certificates. You won't face many issues regarding KKM series (NOT/MAL) and Halal logos on your product. As majority of Malaysians are Muslim, most of them will look for the KKM series (NOT/MAL) and Halal logo when they want to buy a certain product.
Thus by having these all figured out will earn you a safe spot from being questioned by the consumers later. They will also be more attracted to buy your product which is another win!
Why Choose UMZ Bioline Manufacturer?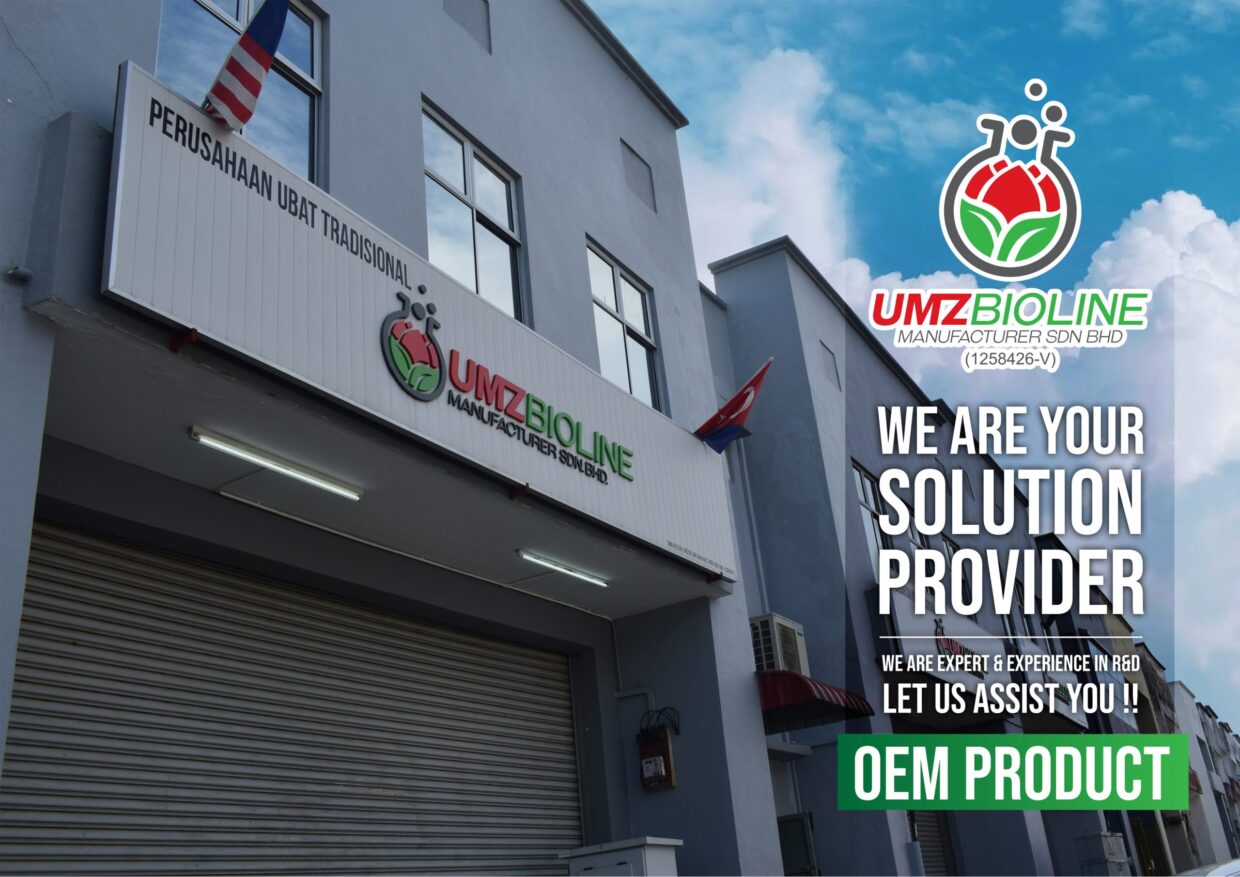 If you are looking for a good OEM beverage manufacturer in Malaysia, this company has the answer. Besides the fact that they use advanced tech on our equipment, they also have GMP.
They can also provide certifications and registrations such as Food Registration, Halal, Mal, Not, everything that you need, they will do it for you.
From research and development, to formulation, design, production, and distribution, they have all the services that you could possibly need. All in one place, very convenient! Just in case their stocks are not really something of your dreams, worry not as they can also do custom formulas. They can provide a flexible contract with full support, as long as you are happy.
Moreover, as one of the best beverage manufacturers in Malaysia in Malaysia, they promise to give the best value service to those who want to produce their own products.
They can also provide an option of customer service if your company requires it along with other services such as:
Free consultation
Reasonable price
Develop formula on new base research
Utilisation of advanced technology
GMP-certified Manufacturer
Provide certification and registration (Food Registration, HALAL, MAL, NOT)
This company has operated for over 15 years in assisting the production of private labels from the beginning of discussions, producing formulas, preparing samples, to the packaging process.
We from UMZ BIOLINE MANUFACTURER SDN BHD are pleased to help you and invite you to our Office or visit our factory. Let's build a product with us.
Whatsapp Now