5 Ways to Become a Product Founder
If you have been in business for many years, it doesn't matter if you start from any business, have you ever been tickled and thought, how can you become a Product Founder through a Malaysian OEM Factory, Sabah, Sarawak?
In this interesting topic, we from UMZ BIOLINE MANUFACTURER SDN BHD, Malaysian OEM Factory, Sabah, Sarawak will help guide you on how to become a product founder through Malaysian OEM Factory, Sabah, Sarawak and the steps you need to become a Successful Founder.
1. How To Become A Product Founder – Things You Need To Do.
To be the founder of a product, especially if the product is a new product in the market, not yet known or heard by the local community or abroad, you must have a strategy so that when the product is produced, you can continue to sell in the market without any problems. Here we provide 5 main steps that you can follow as a way to become a product founder through the Malaysian OEM Factory, Sabah, Sarawak
2.1 Do not rush to complete the product, the product must be produced from a Malaysian OEM Factory with GMP standards
The advantage of products made from GMP -rated Malaysian OEM factories is a key product safety. GMP which also means "Good Manufacturer Practice" is the recognition given by the government body to a factory that meets the guidelines in producing OEM products. This GMP standard Malaysian OEM factory will also help you in terms of the quality of OEM products that will be produced. In addition, the OEM product will also be able to get certification that will be assisted such as KKM approval, HALAL, Must (food/beverage) NOTi and tokens required.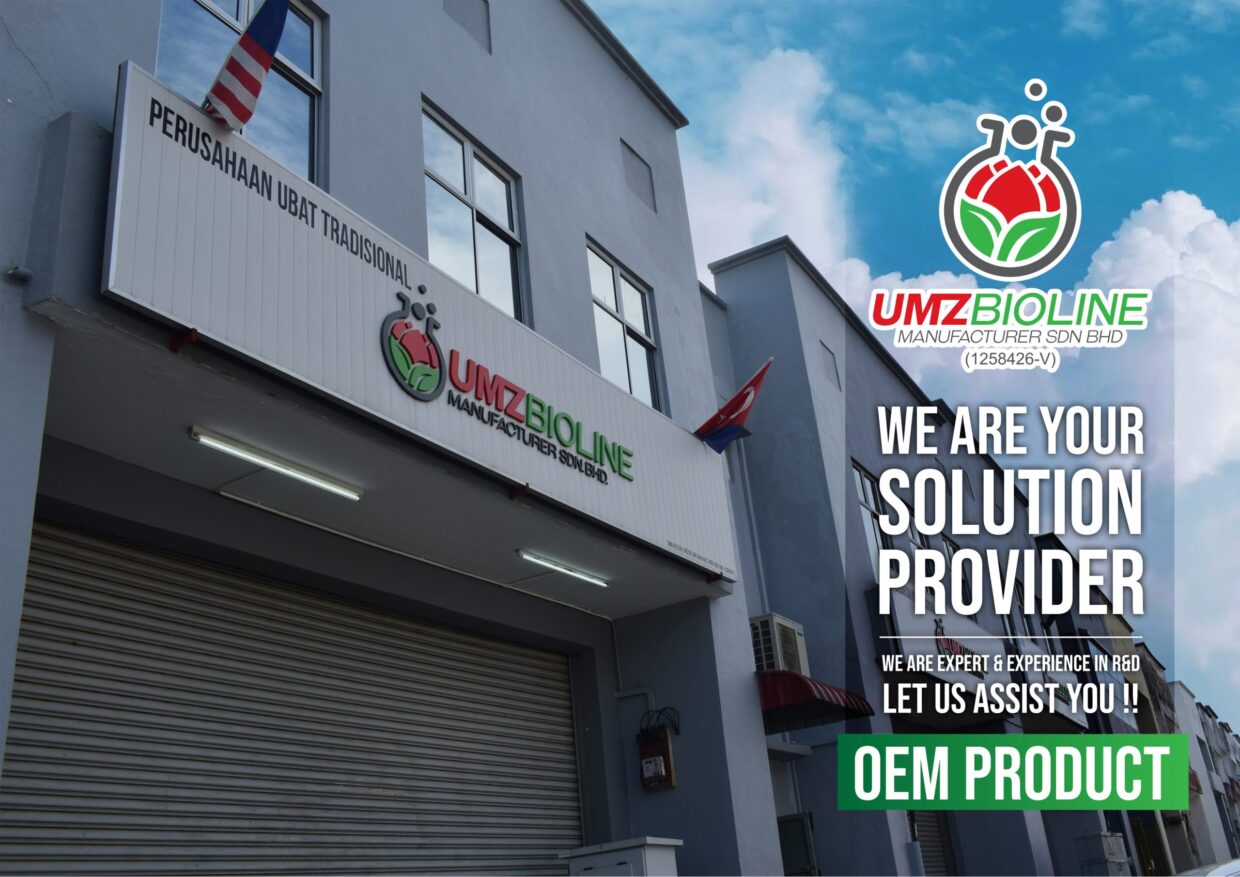 Imagine if you don't find a way to become a product founder through an OEM Factory, you may lose time, energy and money! Even the product produced does not have approval which causes the founder of the product to be sued.
Malaysian OEM factories such as UMZ Bioline Manufacturer are the top choice of product founders throughout Malaysia. In addition to the guarantee of optimum quality, the price offered for the production of a unit of OEM products is very cheap and competitive. With a minimum production of 1000 MOQ, your product can be ready in 14 days.
2.2 OEM Product Founders must have a strong marketing strategy.
If you have previously been a dropship/stockist or agent to any product no matter whether the product is a health or beauty product, we are sure you know a little bit about marketing.
But to achieve being a Successful OEM Product Founder, you need more than that. This marketing strategy encompasses several systems. This system needs to be understood, researched and needs to be used for business continuity.
2.3 Have an Online Marketing Strategy Through a Website Platform
If you previously promoted on fb page or on Instagram, you need to know, that the website helps CLOSE SALE more easily. Websites help you in many ways such as
Tell your products non -stop 24 hours a day to your visitors / buyers / leads
Please close the sale automatically
You don't need to collect their database such as name, address and phone number, the website will help resolve this matter when the purchase occurs
Online Payment System using FPX Payment
If you want to build a stockist/agent and want them to order in large quantities, order directly on the website.
You can create an affiliate system from a website that also makes sales of your products faster while helping affiliate agents increase revenue
If you do not have the expertise to build a website, you can get the service Professional Website Designer Malaysia.
2.4 Automation in Social Media Using BOT
BOT is a term from the word ROBOT that helps us manage inquiries about products on social media. If you have launched several campaigns on social media for such purposes:
Branding
Promotion
Announcements
Looking for Agents / Stockists / Dropship
Want to collect customer database
You need this BOT to help you. Imagine if you create 5 different campaigns on social media, you will get a barrage of questions on the messenger, in the comments section that need to be answered immediately. If late, your leads will lose interest in getting your product or continue to push aside because of too long waiting. So BOT is an indispensable automation to help you in business OR you can hire two or three admins to reply to all messages and comments. The cost is huge if you are a first time product founder.
2.5 Don't leave out Google Ads and SEO, these two are very important in Google Search.
One statistic shows that 80 percent of users in Malaysia use Google to solve their problems. For example, "Mr. Ali wants to manage his body. Mr. Ali opened Google and continued to type "how to lose weight". Mr. Ali found a skinny product website. com. Mr. Ali bought the product on the website.
Easy to find websites increase sales conversion rates. In every 100 visitors, the normal conversion percentage is 3-8 percent. In other words, for every 100 people, 3 to 8 people will buy. And if 1000 people a day, 30 to 80 people buy.
The use of Google Ads and SEO to increase website rankings helps product sales and brand building for those products.
You are ready and have understood How to Become a Product Founder through OEM Factory Malaysia, Sabah, Sarawak? If so, contact us directly for a free consultation. UMZ BIOLINE MANUFACTURER SDN BHD has been operating for over 15 years and has been the choice of hundreds of founders throughout Malaysia to develop products. Now it's your turn.
We from UMZ Bioline Manufacturer are pleased to help you and invite you to our Office or visit our factory. Let's build a product with us.
Whatsapp Now