Sabah OEM Factory
By this year, the first Sabah OEM Sales Office will emerge ahead of the OEM market. Sabah's various OEM product range will begin to expand. The local product market will be more forward in line with business development.
1. Sabah OEM Sales Office – Kota Kinabalu, Tawau, Sandakan
If you are from major cities such as Kota Kinabalu, Tawau, Sandakan, you do not have to bother to go to the Peninsula to build your own brand products. Now the Sabah OEM Sales Office, UMZ BIOLINE MANUFACTURER SDN BHD has spread its wings in Kota Kinabalu, Tawau and Sandakan!
If you have a variety of OEM products to develop such as:
2. How to Start Building OEM Products at the Sabah OEM Sales Office, Kota Kinabalu, Tawau, Sandakan
If you are dealing with us for the first time, it is very easy. Follow these 4 steps to start building your own brand of products with us
Step 1 – Discussion

Step 2- Sample

Step 3- Production

Step 4- Delivery
Discussion between the two parties to meet the demand and fully explain the cost, moq and others for free.
After the discussion is decided we will do research and provide product samples for you to try. In order to get the best standards, this process is usually done repeatedly untill you reach the level of effectiveness of one product and standard that you want.
We will start processing and making production based on the agreed moq. We will also provide documentation for certification to the regulatory body to make it easier for you to make sales.
Once the product is fully ready delivery will be done and you are now the founder.
3. Why Choose Us As A Manufacturer?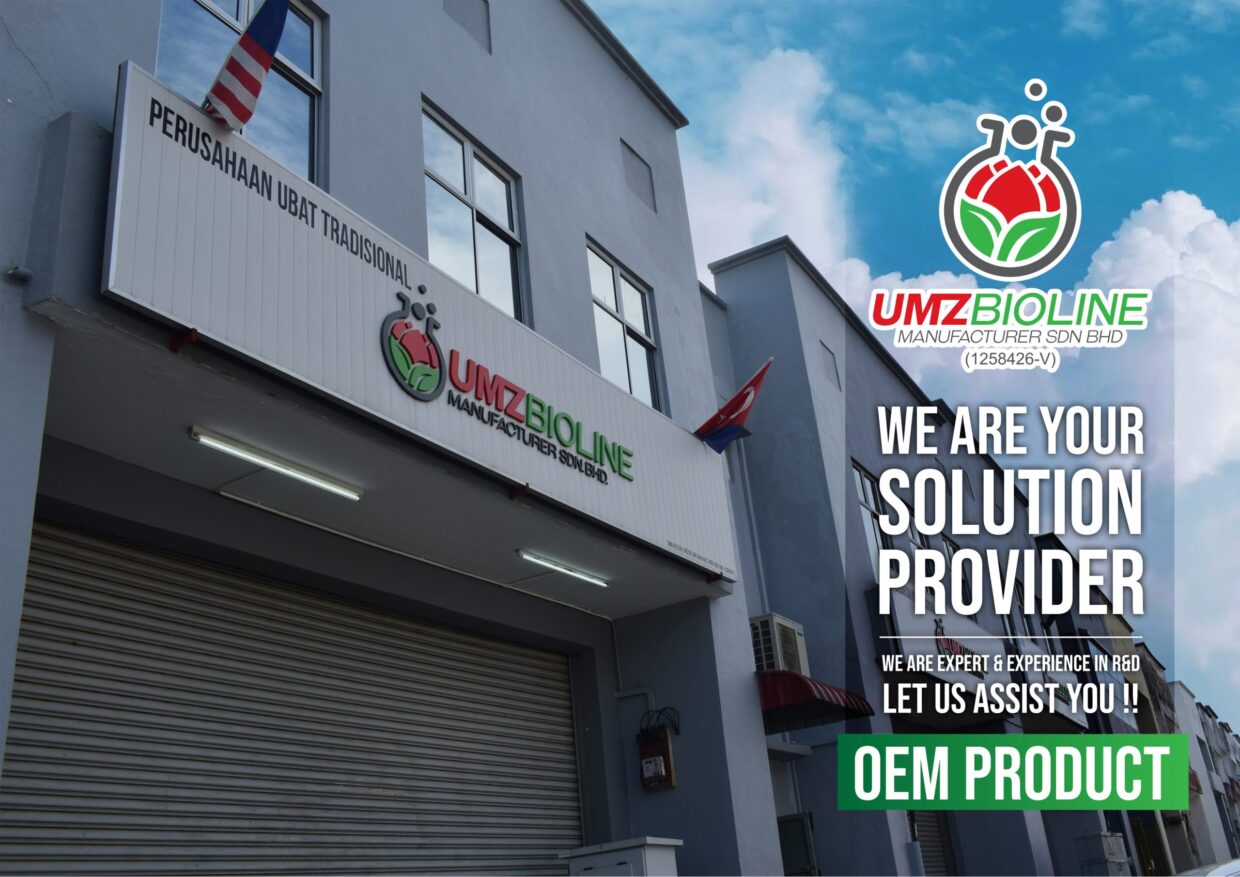 We have been operating for almost 15 years and have been leading the OEM market since 1998
UMZ Bioline Manufacturer Sdn Bhd has certificates and approvals from Malaysian government bodies such as Halal Jakim, Ministry of Health Malaysia ( KKM ) , NOTi , MESTi dan GMP  ( amalan perkilangan baik  dari KKM )
Research and Development Team (RND) consisting of 3 units of biochemist experts to ensure success and effective products.
UMZ BIOLINE MANUFACTURER SDN BHD has given birth to dozens and even hundreds of millionaire product founders.
Choice of Malaysian Artists and choice of global entrepreneurs both from Brunei / Singapore and other Muslim countries such as Bahrain, UAE, Dubai, Saudi Arabia and Qatar.
2020 is a golden year for many entrepreneurs. In line with Malaysia's vision, vision 2020, you can rocket your business by building your own branded products directly from the Sabah OEM Sales Office. We promise the best quality guarantee, competitive cheap prices and excellent after sale service for you.
We from UMZ BIOLINE MANUFACTURER SDN BHD are pleased to help you and invite you to our Office or visit our factory. Let's build a product with us.
Whatsapp Now